*Ring*

Hello?

Double T!

Oh. Hey Katsumi.

Man, it's been a while! I knew you changed your phone number and I thought you gave me your new one and I guess it must have fallen out of my pocket or something.

Yeah. Um..you must have lost it.

Yeah! So it's a good thing I took a look at your phone while you were doing the First Stage on Monday!

You what?

Yeah! Anyway, wasn't it great how ******* was able to ****** the ******?

Yeah, that was pretty cool.

And you! You were able to ****** the ******!

Thanks.

But I have to ask, did you run out of spray?

What?

Like, I sent you a box in the winter! But you had to borrow some on Monday. So I thought you must have run out. So I sent you two more boxes when I got home!

Really? Umm..thanks.

You know, I bet you totally could use this stuff while you're working.

While I'm working? Um..Katsumi, I'm a fireman. I don't think a spray can is something I can use when I'm fighting fires.

Naw! I'm sure you can! I've got a fire going right here. Let me just spray so...

KATSUMI! NO!

*FWOOSH!!!!*

Katsumi!!!

...

Katsumi?!?! Are you OK?

Mr. Takeda?

Yes?

My daddy has to call you back. He set the house on fire...again.

Um..OK.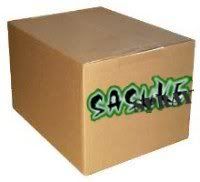 *Ring*

Hi! I'm not here right now! Those hot dogs won't sell themselves you know! Leave a message!
*Beep*
Oh, hey, Katsumi, this is Shinji. Shinji Kobayashi. I wanted to say thank you for the double pack of SASUKE Spray you sent me the other day. And also sorry that your house burned down...again. Anyway, I was just wondering..you know the Monster 9 guys right? You're pretty tight with them so I thought maybe for this next show I was wondering if you could do me a favor and ask them to not cu..
*Beep*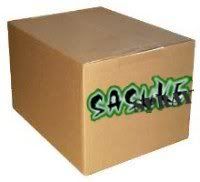 You didn't think I forgot about Takeda, did you?