*Ring*

Hello?

Makoto!

Oh. Hey Katsumi.

Did you get my present?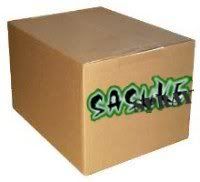 Yeah, I got it. Thanks a lot.

Isn't it great?

Erm. Yeah. I don't really know what to say.

Yeah! I was speechless the first time I got a box too! I was so happy! I think I cried! Actually, I probably cried.

I'm sure you did. You don't think it's too much?

No!

What?

No! It's nowhere near enough! I use the stuff all the time! I was almost late for my new part-time job at Mister Donut because I couldn't find a can to spray myself before I got in the car. Gotta have a good grip on the wheel ya know?

Look, Katsumi, I know it's useful for when you're training but you don't have to use it all the time, you know? It's like it's becoming an obsess...

*Pssht*

Umm..

*Pssht*

Katsumi?

Oh! Sorry, I thought the phone was slipping so I was just getting the trusty old spray out. What were you saying?

*Sigh* Never mind. Thanks for the gift.

Let me know if you need more! I've always got some extra!

Yeah, I will. Bye Katsumi.

Bye! *Pssshhhhht*