*Ring*

Hello?

Kaz-man!

Umm..Katsumi?

Yeah! It's me! Did you get my present?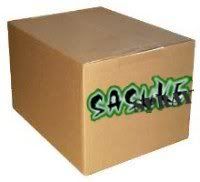 Uh, yeah. Thanks.

Isn't it great? I sent a box to all the others too! Even some people who aren't All-Stars like you and me! I do stuff for the little people!

Little people?

Yeah! I even gave a can to one of my co-workers at the Mickey Ds!

Mickey Ds?

McDonalds! I heard one of those Ninja Warrior people call it that!

I thought you were working at Mister Donut?

I was! But they let me go, can you believe it? They said something about me taking too long between orders. Said I was "thinking too much." Whatever!

OK. Got it. Mickey Ds.

So anyway, I've been thinking lately. You know how you haven't been competing because of your eyesight? Well, I think that Sasuke Spray might be the cure for your problems!

The spray? Are you sure? How is that going to help me?

I know I always feel good after I use it! But I've only been using it on like my arms and legs and chest and stuff but I've been wondering if it'll help with other body parts? Like, my eyes? Maybe it can help you see better!

Uh..I don't know about that Katsumi.

We'll never know until we try! I've got a can right here with me! Let's try right now...

I don't think that...

*Pssht* AGHHHHHHHHHHHH!

Katsumi! Are you OK!

AGHHHHHHHH! KAZ-MAN! AGGHH! I GOTTA GO! I'LL LET YOU KNOW IF I AGHHH! CAN SEE ANY BETTER LATER!

*Sigh* OK Katsumi.