From the rather sparse
wikipedia entry about Ube City
:
"One of the main attractions of the park is a white pelican called 'Katta-kun', so named after his parents who were from Calcutta, India. Born in the park in 1985, he became famous as he began visiting schools in the vicinity by himself." (Note: Katta-kun would be the straight romanization of his name but souvenirs from Tokiwa Park spell it as Cutta-kun which is how I've always known it as.)
According to the Tokiwa Park history of Cutta-kun (sadly not updated yet), Katta-kun started
terrorizing
visiting schools on his own back in 1988. The story made national news and from that time onward he became a symbol of Ube City.
Cartoon images of Cutta-kun can be seen around Ube on buses, maps and there is even a
postcard set
featuring Cutta-kun.
An animated film about him,
カッタくん物語 (Cutta-kun Monogatari)
, was made as a fundraiser for the city back in 1994.
The movie was not based on fact since Cutta-kun apparently could SHOOT BEAMS FROM HIS MOUTH: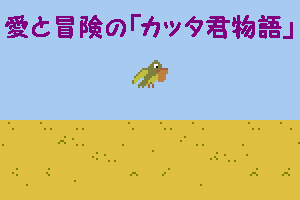 Cutta-kun was 23.
NHK story on Cutta-kun.
Asahi Shinbun story.