Rudolph the Red-Nosed Reindeer. A heartwarming Christmas tale of discrimination and alienation. But although the Rankin/Bass special had a happy ending what happened after the cameras were off?
Realizing that he had something that Santa desperately needed, Rudolph and his agent Scott Boras held out for a new contract prior to Christmas 1997. Santa relented and gave Rudolph a 10-year $252 million contract. In 2007 Rudolph retired a rich reindeer (although not as rich as he could have been due to a costly divorce from Clarice in 2003 when it was revealed that Rudolph had several does on the side). As a going away present he bought Santa a pair of headlights for his sleigh with a note saying "Get into the modern age fatso."
Fireball never patched up his friendship with Rudolph. When Rudolph became a success the other reindeer noticed the "weird buck with the blond hair" and tormented Fireball relentlessly. Furthermore, his parents would constantly compare him to Rudolph giving him even more of an inferiority complex. Fireball now fronts an emo band that is "going to make it big any day now. Have you seen our myspace page?"
Like Rudolph, Hermey was able to retire to a life of luxury. Being the only dentist in the area, he was able to charge whatever he wanted for treatment and the other elves, having been denied health insurance by Santa years ago, went broke trying to pay for his outrageous fees. Currently Hermey is in Washington D.C. lobbying to prevent health care reform.
Comet was fired as reindeer coach after a buck died during a hazing incident.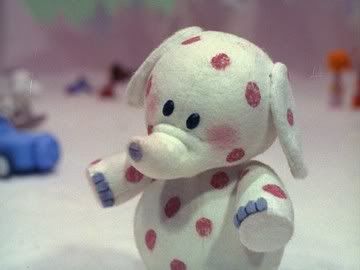 The Spotted Elephant was not long for this world when it was discovered that the spots were actually cancerous.
A Dolly for Sue had psychological problems that manifested themselves soon after leaving the Island. A gender reversed account of her life after the Island was later made into the "Child's Play" movie series.
Hermey's Immediate Supervisor was later found dead in the showers with a knife sticking out of his back with a note next to him saying "Sing THIS a$$hole."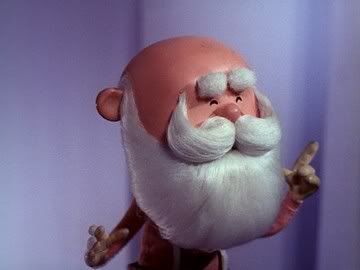 As of late Santa has been besieged by human rights activists who are protesting his exploitation of "little people" and by animal rights activists over his treatment of his reindeer. Santa was caught on tape saying "Well, I know who's getting coal in their stockings this year," a quote which later got him in hot water with environmentalists who are now protesting his reckless waste of fossil fuels. Santa later said in an interview "Better elves than a bunch of Chinese slave children, amiright?" which led to...
Yeah yeah. Not the strongest of posts. This originally was going to be a liveblog ala the It's A Wonderful Life one but I just wasn't up for it. The "Where are they now?" part was always going to be the end of the liveblog so I decided to just go for it. Some ideas were a little more NSFW in the beginning (think Santa and "To Catch a Predator") but I scrapped them. So forget this post and go over to Medium-Large (he writes Sally Forth!) and peruse the Christmas strips. Some are new. Some are reruns. But all are much much funnier than what I have up above.