SASUKE 2008 3rd Stage, no time limit.
1. Arm Rings アームリング
2. Descending Lamp Grasper 下りランプグラスパー くだりランプグラスパー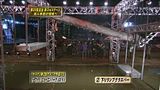 3. Devil Steps デビルステップス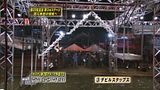 4. New Cliff Hanger 新クリフハンガー しんクリフハンガー
5. Jumping Bars ジャンピングバー
6. Sending Climber センディングクライマー
7. Spider Flip スパイダーフリップ
8. Final Ring ファイナルリング
No one has reached the new Final Stage yet so details such as the time limit and even how to complete it are unknown.
Tower in the day
Tower at night